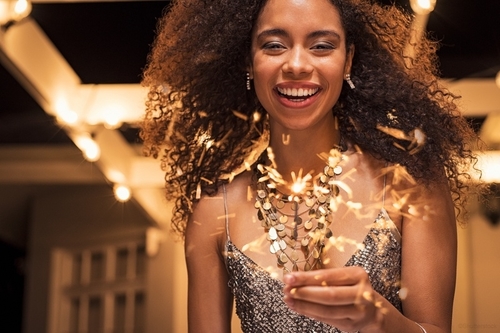 It's that time of year again when we look back over the past year and make some goals to better ourselves mentally and physically. For many that includes improving their smile! While considering your New Year's resolutions for this year, be sure to include improving your smile on your list! And what better way to improve your smile than getting orthodontic treatment?
A Great Smile Starts With Good Oral Health
You already know that keeping teeth healthy means brushing twice a day and flossing daily. You want to keep dental plaque — made up of oral bacteria and bits of food particles — away so it doesn't harden into tartar (which your dental hygienist then needs to remove). But did you know that straight teeth are easier (and more effectively) cleaned? Having crooked (or overlapping) teeth makes oral hygiene harder and leaves teeth vulnerable to cavities and gum disease.
Why Orthodontic Goals?
While you are setting new goals for 2022, consider putting your smile on the list to make improvements with orthodontics! Brushing and flossing are optimized with straight and aligned teeth. Not only does this spare you from unnecessary tooth decay and gum problems, but it will also protect you from having trouble chewing and eating. Being able to flash a straight smile boosts your self-confidence around others, whether in school, the workplace, social gatherings, or dating! An aligned smile can leave you smiling from ear to ear and laughing more openly because you are happy with your smile.
Invisalign®
Did you know that we are a top nationally-recognized provider of Invisalign®? And that the most sought-after orthodontic treatment for patients who come to us for straighter smiles is our Invisalign clear aligner system? Taking care of your teeth and gums while straightening your pearly whites with Invisalign means it is easy to brush and floss your teeth and gums to keep them healthy. You also need to keep your aligner trays free from harmful bacteria, food particles and even dried saliva. Speaking of saliva, it's important to stay hydrated throughout your day by drinking enough water so your mouth can flush out harmful bacteria and food particles that cause tooth decay. Avoid drinking anything other than water while wearing clear aligners as that can stain. Hot drinks can also warp your aligners so avoid hot tea, coffee, chocolate or toddies!
Initial Complimentary Consultation
Our orthodontic team is excited to work with you this year to create the aligned, beautiful smile you deserve! We welcome you to give us a call so we can schedule your complimentary initial orthodontic evaluation. We look forward to helping you fulfill your New Year's resolution for a spectacular smile with the help of Invisalign aligners!