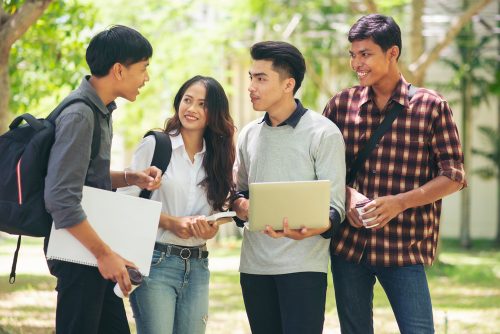 Summer's drawing to a close with fall right on its heels! This means your child in orthodontic treatment with Invisalign® will likely need to make some changes as they prepare to go back to school. As the parent of an Invisalign teen, now's the time to stock up on everything they need to correctly follow their alignment program while they're away from home and busy with school activities.
Backpack Essentials
-Soft foods: Make sure they get the nutritious foods they need for a healthy smile and body. If your child skips meals because their teeth hurt (at the start of a new tray cycle), they won't have the essential nutrients or energy their body needs. This is the time when you'll want to send them to school with soft foods that are easy to consume. Greek yogurt with extra protein, soups, stews, oatmeal and smoothies easily fit the bill. Tip: put some dental wax in their backpack to cover any rough edges along with a travel-sized mouthwash designed to soothe mouth sores.
-Aligner case: Since your child removes their aligner when eating, make sure they have an aligner container with them at all times so that their aligners aren't just placed on a napkin that might accidentally get thrown out.
-Oral hygiene tools: To avoid getting cavities and stained teeth make sure they have the tools they need to maintain strong oral hygiene habits. Encourage them to brush their teeth well after every meal (or snack) so their teeth are clean when they put the tray back in. Tuck a toothbrush, travel-sized toothpaste and flossing piks that make flossing after eating a breeze into their backpack.
-Consistent wear time: When your child is away from home, it's easy for them to just take out their trays and if they do this often, they will delay their treatment time. The Invisalign system can't do its job if they don't keep their aligners on for the recommended 21 hours a day. If they feel self-conscious because they lisp while wearing their aligners, remind them that should only be temporary. They can also slow down when they talk and work on their enunciation to help lessen their lisp.
-Whiter teeth: Remind them that practicing consistent oral hygiene care prevents their teeth in aligners from dulling or looking darker. You can provide them with a gentle teeth whitening pen (or strips) to help them keep their teeth looking their brightest.
-Dry mouth and bad breath go hand in hand: Make sure they have a water bottle or water bottle container with them all day. This helps make sure their saliva production stays optimal. Also, make sure they brush their tongue to remove oral debris and bacteria after they eat.
Back to School in Style
So while you are getting your child ready for the new back-to-school schedule and routine, getting new clothes, haircuts, backpack and school supplies, remember to give them the dental tools they need during their school day while they are wearing aligners. Our Shenandoah Valley Orthodontic team in Virginia, along with our orthodontists, Dr. Damon W. DeArment and Dr. Daniel J. Lill today look forward to helping your child create the aligned smile they deserve!