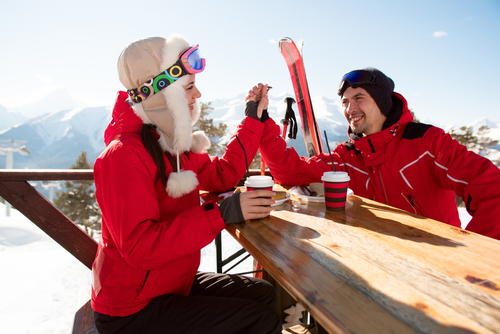 This holiday season, while you are straightening your teeth with Invisalign®, there are some things to keep in mind to ensure that your smile stays healthy. You can still indulge in your favorite hot chocolate, wassail or brandied eggnog but remember to remove your aligners and clean your teeth afterward to minimize sugar-loving bacteria and tooth stains!
Watch Out for These Holiday Treats
-Gingerbread Cookies: if making gingerbread ornaments or houses is one of your family's favorite traditions, remember that this festive staple becomes too hard to safely chew. So go ahead and enjoy them as decorations but skip chewing them!
-Candy Canes: Who doesn't love the cool chill of peppermint during the winter holidays? Hang them on your tree and tuck them into stockings, but remember, they are hard on teeth. Soft peppermint patties and truffles are a more tooth-friendly option.
-Sticky or Crunchy Treats: As a general rule, avoid nutty or caramel sweets like pecan pie, peanut brittle, candy or caramel apples. Sweet treats like toffee or peppermint bark are hard and sticky so avoid them. Your teeth will thank you!
-Nuts: Even if you've got a traditional nutcracker at the ready, nuts are hard on your pearly whites. Maybe stick to nutty chocolate spreads (Nutella, anyone?) or nut butter to safeguard your teeth.
Just so you don't think we're related to the Grinch, we have some wintery goodies that you can safely enjoy without worrying about your cracking your teeth!
Better Holiday Goodies
-Hot Chocolate: Sip on peppermint or gingerbread flavored hot cocoa and even add melt-in-your mouth marshmallows or whipped cream.
-Soft Baked Confections: Enjoy soft holiday cookies in all kinds of holiday shapes, brownies, cupcakes and cakes! Top them with confetti sprinkles and frosting galore.
-Festive Fruit: Oranges are awesome stocking stuffers hearkening back to long-ago traditions. Help yourself to festive fruit platters with cut-up melon chunks, strawberries, pineapples, bananas and kiwis to put a healthy smile on your face!
Clean Those Pearly Whites and Your Aligners
Even though you can take out your aligners to enjoy your favorite holiday goodies, remember, your goal is to wear them 22 hours a day to stay on schedule. After indulging in sweet treats, brush and floss thoroughly to get trapped food particles and oral debris off tooth surfaces before reinserting your aligners. Keep your teeth strong by using fluoride toothpaste and don't be tempted to get lax on your daily oral hygiene care during the whirlwind activities. Take a few minutes to clean your teeth every time you indulge…your teeth will thank you!
Get Yourself a Travel Kit
If you're lucky enough to travel for the holidays be sure you're prepared to keep your smile in great shape. Get a cool travel-sized kit stocked with a toothbrush, dental floss, mouthwash, a compact mirror to use after eating and your aligner case.
Wear a Mouthguard
If you love playing winter sports or engaging in other indoor and outdoor holiday activities, safeguard your smile! Does your family have a tradition of rock climbing indoors? Ice skating at a rink? Snowboarding, skiing or sledding? Do you enjoy ice hockey? Wearing a mouthguard during those kinds of activities can keep your teeth and aligners protected!
The Gift of Straight Teeth
This holiday season, while you are giving yourself the gift of straightened teeth and an aligned bite, be sure to protect your investment. We are always here to answer your questions and help you keep your smile healthy during your orthodontic treatment, whether you are using Invisalign or traditional braces!