Maintaining good oral hygiene during your orthodontic treatment is incredibly important.  Orthodontic appliances tend to trap food particles and plaque, and make it difficult to brush and floss, which raises your risk of developing cavities or other problems in your teeth and gums.  When you visit Shenandoah Valley Orthodontics, our orthodontists and team will provide you with instructions on the best ways to brush and floss during your treatment.  We also strongly encourage you to continue visiting your general dentist regularly for cleanings and other preventive care.  To learn more about oral hygiene with braces in Winchester and Front Royal, Virginia, and to make your appointment with Dr. Damon DeArment, Dr. Daniel Lill, and Dr. Ashley Larson, please contact our office today.
We recommend a few different products and devices to enhance your oral hygiene routine and help you keep your teeth clean.  They include the following:
Rotary Toothbrush
Our doctors will provide you with a rechargeable rotary toothbrush at the beginning of your treatment.  An electric toothbrush is extremely helpful in removing dental plaque and food around orthodontic appliances.  You should brush after each meal (a minimum of 3 times each day).
Fluoride Mouth Rinse
We recommended that you use a fluoride mouth rinse once each day after brushing and flossing.  This will harden your tooth enamel to help prevent cavities and markings on the teeth from your orthodontic treatment.
Antibacterial Mouth Rinse & Topic Anesthetic Ointments
Peroxyl or other hydrogen peroxide antiseptic mouth rinses help reduce inflammation to your gums and cheeks, and help prevent infection and decrease irritation that develops as a result of braces.  We recommend that you use this frequently to aid in the healing process of general irritation, canker sores, cheek bites, and other minor injuries to the gums and cheeks.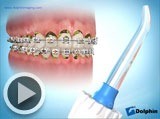 Oral Irrigation
Using an oral irrigator (such as a waterpick or water jet) prior to brushing can help remove large debris around orthodontic appliances.  It also stimulates blood flow within the gum tissue to give you healthier gums.  You can purchase an oral irrigator at most drugstores and at other retail stores, such as Wal-Mart and Target.
---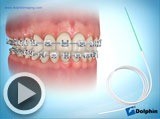 Flossing
Flossing while wearing braces can be challenging.  We will show you the proper flossing techniques after your appliance is placed.  Please floss daily to help keep your mouth healthy.
---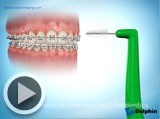 Proxibrush
This is an interdental toothbrush, meaning that it is designed to clean between the teeth, in the areas underneath and around your wires and braces.  Be gentle when using this brush, so that you do not damage your wires.
Please contact Shenandoah Valley Orthodontics today for more information about brushing and flossing with braces and to schedule your appointment with our doctors.