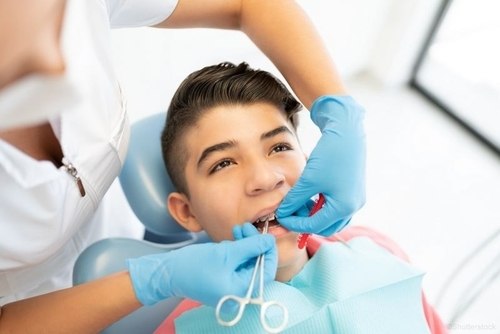 If you have been wanting to straighten your teeth for a healthier, more beautiful smile, you have come to the right place! We love straightening smiles and aligning bites to give our patients the confidence they have always wanted. Our motto "Smile More Be More" is our belief that your confident smile will take you to the next level!  It is a big investment in your oral health, time, energy, and finances, and we are grateful for your trust in choosing Shenandoah Valley Orthodontics to take you on this life-changing journey.
Too Busy to come to the Office?
We now offer a Zoom consultation, where you can meet with a doctor to discuss your options from the comfort of your own home or wherever you choose! Our digital forms mean no more bulky paperwork and who even has a printer nowadays?   We offer flexible in house financing options as well as a trusted partner to provide you more affordability in your payment plan.  To ensure that we can provide you with the best plan to fit your life we ask that you send us your dental insurance information prior to your appointment so we can apply for that coverage.
What's behind Door #2 you ask?
We would love to see you at our Winchester or Front Royal office in person as well. After the boring photos and records, we will be happy to answer all your questions and concerns as we walk you through the first couple of steps to get started on your new and confident smile!
NO MORE GOO!
Shenandoah Valley Orthodontics has invested in the latest technology to provide you with a more comfortable treatment experience. A radiation free digital scan of your teeth can show you a simulation of your future smile within a few minutes!
NO MORE WIRES!
Our Orthodontists are extensively trained in Clear Aligner techniques and you can trust that with over 3,000 successful smile stories, you have chosen the best option for care.  Not to brag but who wouldn't choose the top 1% treatment provider?  Our life is wireless and you shouldn't have to go old school anymore either in tooth movement.
Are you ready to get started?
We strive to get your treatment started the same day you come to the office.  With clear aligners, our doctors carefully plan the movement and will deliver your appliance at the second visit.  Instead of having to see us every 6-8 weeks though, you're in control of your progress and change your aligners weekly to keep on track.  Virtual appointments are used to allow our orthodontists to monitor your tooth movement via photos that you submit.
Success comes from a team effort though.  Maintaining proper hygiene, wearing elastics as prescribed, and avoiding those foods that may impede the progress of care will ensure the most efficient treatment.  Trust an expert with your smile and choose our team at Shenandoah Valley Orthodontics to help you Smile More Be More with a confident smile.